Our History
Champion Coach was founded in September 1998 by Craig and Hazel Dance during a conversation around their dining room table in Greenville, South Carolina. With excitement and faith in God, they cleared out the basement of their home to make room for two desks and a 5'x 8' dispatch dry erase board. Soon after, a handful of drivers became family to them.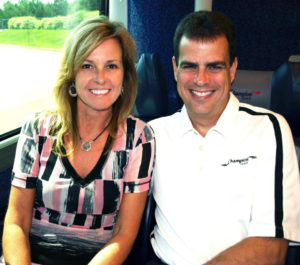 Craig had a vision of providing superior ground transportation services to sports teams. With Hazel's experience and knowledge in the bus industry, a dream became a reality with the purchase of two 1999 MCI E4500 and two 1999 Prevost H3-45 motorcoaches, which were delivered in late September of 1998. For the next 3 months, Roper Mountain Storage facility was the convenient place to park, clean, and maintain the buses until they found a larger building with ample parking and a service garage on Roper Mountain Road. The business got off to a quick start, and by December of the same year, Champion Coach took delivery of its eighth bus in Atlanta during the Peach Bowl.
Craig and Hazel knew that quality and excellence go hand in hand. Their passion for service and detail became a way of life. At the very heart of Champion Coach is a group of dedicated drivers who take their job very seriously and exceed expectations daily. They are the best of the best and serve their clients wholeheartedly. Some of those very first drivers are still with Champion Coach to this day.
Twenty years later, Champion Coach has come a long way from the humble basement beginnings to the multi-million dollar, modern, state-of-the-art service center and business offices located on 18 acres off I-85. The true heritage spirit of providing excellent service and thoughtful attention to detail remains the driving philosophy of the company today. Reliable, exceptional service never goes out of style.